1947. Jean Claude and Yvette return to Villeneuve lès Avignon at Easter time to settle there. Thanks to Raymond Christoflour, a writer who lives in Villeneuve, who adheres to Guenon's principles, Jean Claude meets A.Gleizes on his property named Méjades at Saint Rémy de Provence. Both men had more or less the same family background. Their respective fathers both worked in the field of textile design. As a young man, Gleizes became an apprentice like Jean-Claude in the family business. While there is a 16 year gap between them, the two painters find themselves in the same thought as that of René Guénon: "Universal man must find the sense of religious faith in himself and not outside of himself " ; JCL endured the ordeal of war as a prisoner. Gleizes brings him a spiritual refuge in which he will be able to embody his painting, and reply to the questions as to the role of a painter in society.
With his friend Yvette at his side who remained very close to nature, Libert draws on his primal inspiration. Portraits and pictorial studies follow one another. In captivity he had already rubbed shoulders with intellectuals. Architects, engineers, writers, the micro French society represented by its elite, all political and religious milieus grouped together, reserve officers and non-commissioned officers will exchange for five years their vision of a future society. The intellectual curiosity of Jean-Claude attracts Gleizes in many ways. He replies to the essential question which Libert asks himself. How can a painter in 1947 position himself with respect to the world.
Jean Vilar just created the Festival d'Avignon and produces Shéhérazade following the poet's scenario. Supervielle meets Jean Claude and Yvette and falls in love with their home. He prefers to live there close to the Villeneuve painter and his muse, Yvette, to be close to the performances. Each morning Supervielle reads a poem to Jean Claude during breakfast on the terrace. In Avignon, the actors of the theater troup Theatre National de Paris are in full rehearsal. Once in a while they come for lunch at the Liberts to review the progress of the play with Supervielle. It is in this ambiance that the painter Libert will begin to be creative. After Supervielle, it is Guy Dumur, writer and theater critic who will stay in the potter's home. Quite attached to the young couple, listening to Jean Claude whose words he absorbs, he begins to write there his novel «Les petites filles modèles». A place where spirit abounds can only nourish an artistic work. Guy Dumur loves this house and its large terrace whose view of the Rhone and orchards with the background of the Palais des Papes of Avignon is unique, timeless, a mythological landscape, a theatrical decor laden with history, a site where lyricism and poetry live well together...
translated by Jean Patrick LIBERT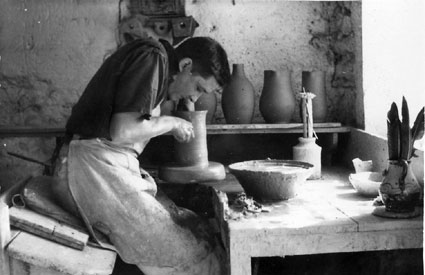 Jean-Claude Libert at work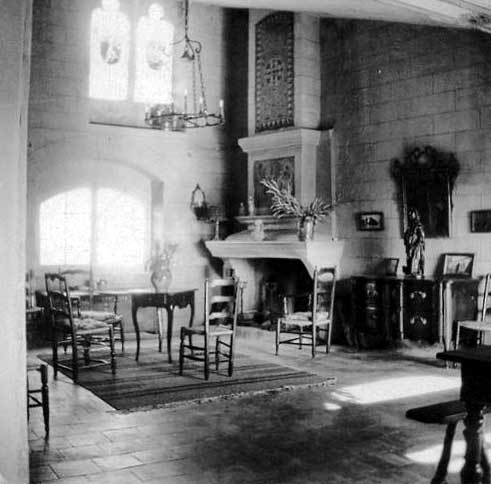 The atelier of Villeneuve les Avignon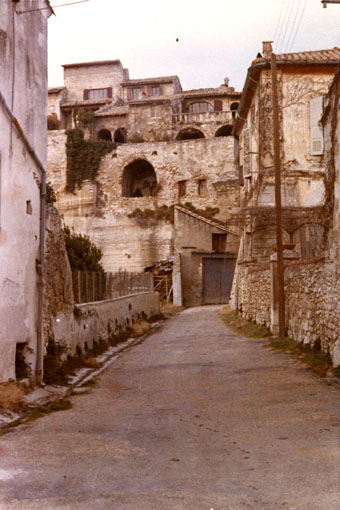 The house of Villeneuve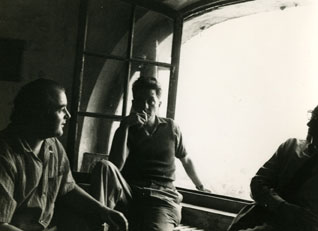 Marc Hénard in Villeneuve with Jean-Claude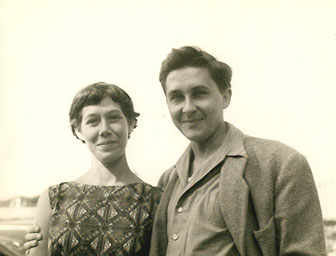 Yvette and Jean-Claude (photo 1950)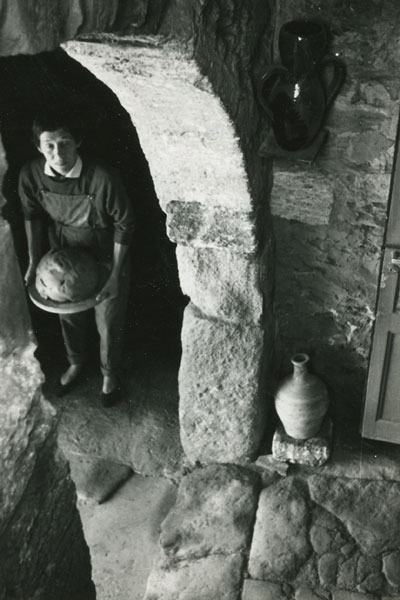 Yvette carrying a piece of clay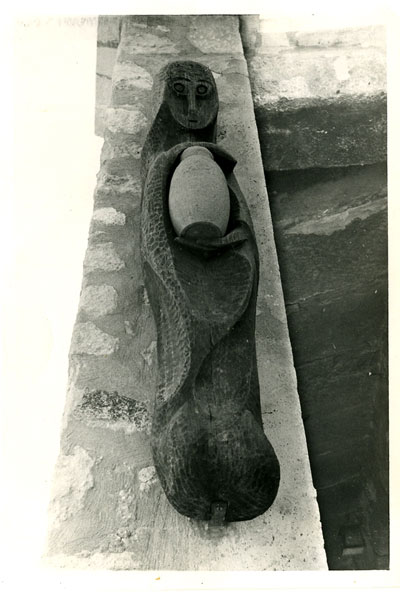 Statue of Marc Hénard in front of the entry of the Pottery-studio in Villeneuve lez Avignon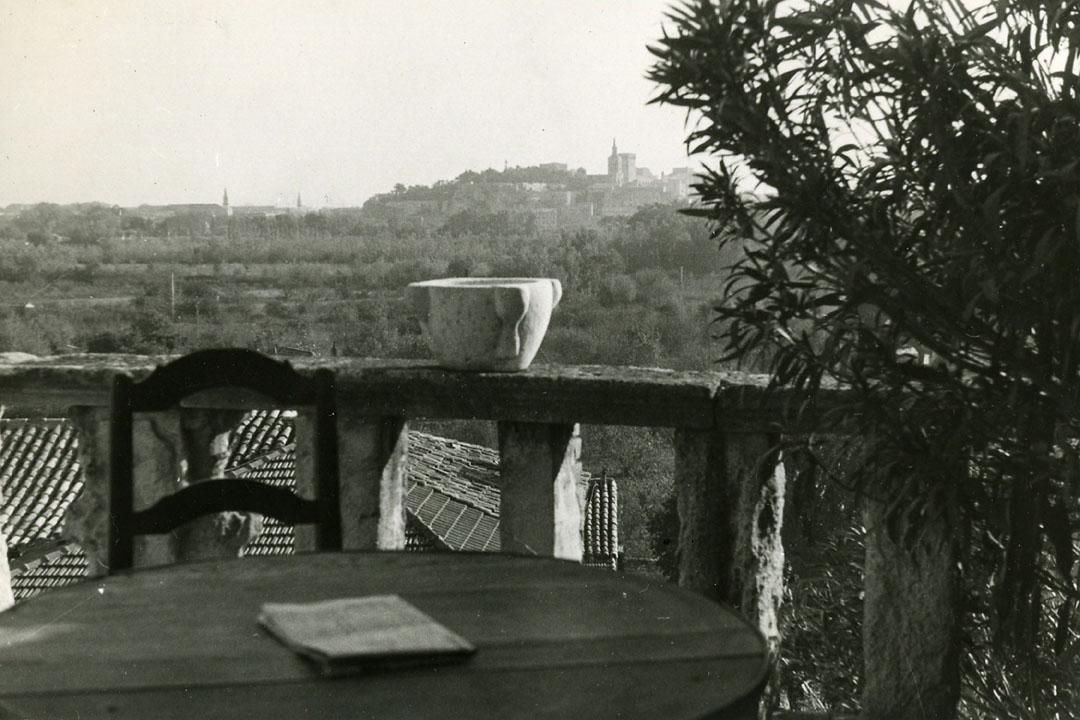 Terrace of the "Potter's house" at Villeneuve lez Avignon. Back front the Palace of the Popes.